Are you excited for the holidays this year? I tend to swing back and forth but since starting my Instagram and Blog, I'm definitely motivated to share all kinds of holiday tips and styling ideas!
I thought it would be timely to share my quick guide to holiday styling at the beginning of December . In this way, it gives you enough time to prep for your prettiest tree yet!
Detailed Guide to Holiday Styling: Pick your tree shape
There are many tree species to pick from. Growing up our favorite at home was the Noble fir. The needles were tight and the coloring was a blue-grey. I really miss having a Noble fir at home but here in Socal Douglas firs seem to be the most popular.
According to ProFlowers website, the top 3 firs are Balsam, Fraser and Noble.
Once you have found the right tree for you, it's time to start decorating! Let me walk you through our winter wonderland tree this year!
Detailed Guide to Holiday Styling: The Why
Preparation is key when it comes to a successful tree! So start in September. I know, I know. It sounds ludicrous and I used to get so huffy and puffy about it. But it pays off to have a game plan so when the sales come a-knocking, you are ready to buy with a strategy and not end up wasting time and money. Get it? Good. Tough love is good for us sometimes. *wink*
So as I said, start pinning images or inspiration. I've been sharing a lot on finding your why for each space of your home. Since the Christmas tree is usually in the living room, find your why. You may be wondering what is my why? That is probably the best question you can ask yourself when starting to style a room.
As a therapist and interior designer, my goal for you is to design your home so you can be the best you for yourself and family. Has it been hard to connect with certain members of your family lately? Or has everyone been just too busy? An example of an why is: I just want to slow down and sit with my family, no devices and connect heart to heart. I want to get to know my partner better at home. I want to know their thoughts and feelings as of late. I want to support my family and let them know I care.
See? The whys can go on and on.
From there, you can re-configure the seating area to accommodate the tree. And perhaps make more room for board games or Twister. Remember that game? It was my favorite growing up and the girls LOVE it!
Once you know your why, the how and what easily follow. You think about how your kids like to sit or lie down. So you place more poufs on the floor. With more poufs on the floor, you can decide the style of poufs. And once you decide a certain pouf that you like, you add complementary colors, layers and textures. See how easy it can get? And all with the core motivation of increasing relational intimacy at home in a subtle, inviting manner. Genius right?
For us, Natalie wanted a winter wonderland. This girl has the imagination of unicorn. I often envy the fact I don't live in the world of rainbows and unicorns like her. It's so fun and carefree!
This year we put up the tree in the "new" living room. We swapped the dining space and it has worked really well! We definitely sit in this area more!
Detailed Guide to Holiday Styling: Living Room Essentials
So now we can delve into the nitty-gritty design details! With the winter wonderland theme in mind, we went shopping for luscious, cozy throws. These two throws from Anthropologie truly invite lots of snuggle time with your loved ones.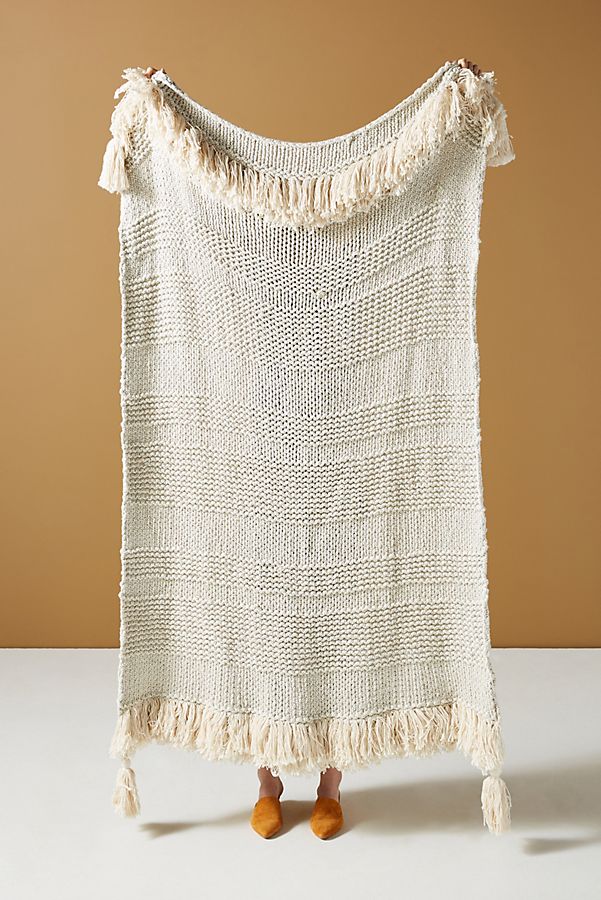 Image Credit: Anthropologie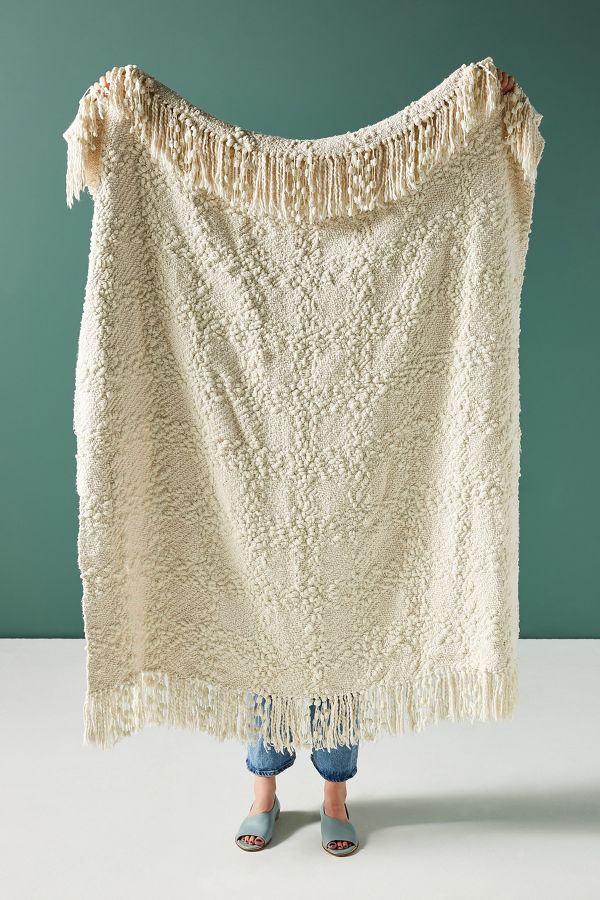 Image Credit: Anthropologie
Next up were pillows! Since the girls and I were already at Anthropologie we decided to take a look at the pillows. And these ones from Magnolia Home are amazing!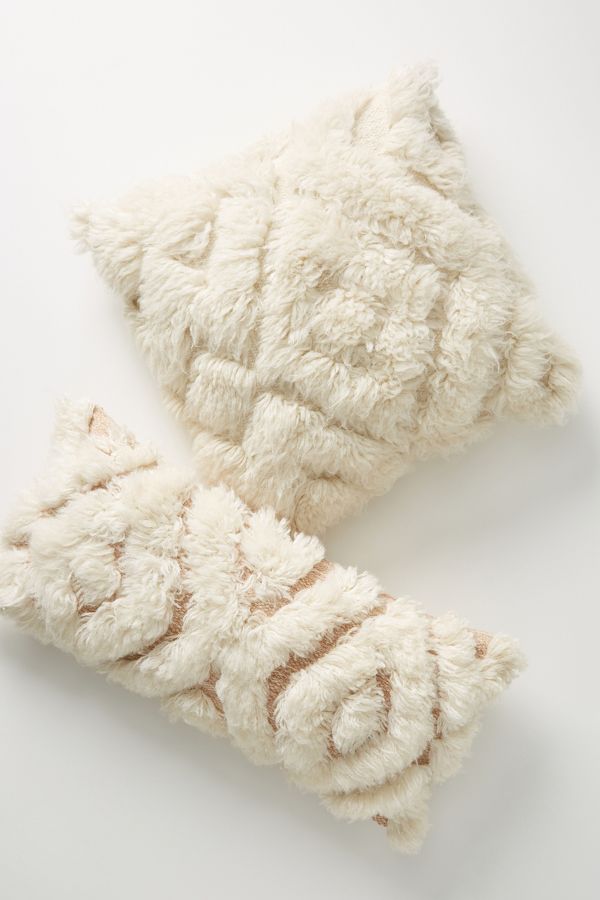 Of course, we have the creative DIY wall art that I made out of two World Market tree garlands! I'm still giddy over the impromptu creation I made for this wall. It easily can stay up for the rest of the year!
And yes, those stockings are so unique aren't they? The modern pattern plays nicely with the casual and cozy fringe.
Next up would be cute holiday decor for the coffee table. Glitter houses and small Christmas trees never fail!
Detailed Guide to Holiday Styling: The Tree
Oh, the glorious tree! There's something so refreshing and organic about having a real tree in the home. We plan to get one for the family room. I'm still waiting for the Fireclay tiles to be made for the fireplace. Once they arrive (which I hope will be any day now!) we can start designing that room, including a live tree.
So the faux tree (my first ever!) stands tall and happy here. Going back to your narrative for the room, start curating ornaments and decor on a google slide and copy and paste ideas. It's seriously the easiest way to visually see your design ideas.
Once you are happy with what you designed, make a google sheet with items you want to buy. For a tree up to nine feet, use ten ornaments per foot. If the tree is over nine feet, use between twelve to sixteen ornaments per foot. For example, our tree is 7 feet. We would approximately need 70 ornaments.
In reality, I  bought 8 boxes of 6 ornaments. That amount totals to 48 ornaments. I didn't want to fill up the tree with just balls. Our winter wonderland was a mirror of a Nordic Christmas. So the matte gold and silver ornament balls from Pottery Barn perfectly matched the narrative. Anytime the word matte comes up, my ears perk up! It's a wonderful tool to create something subtle yet different.
So what was I to do with all the weird holes and gaps? You know every year there are bound to be obnoxious holes and gaps in a tree! I was at West Elm and saw these glitter starbursts. I immediately knew they had to be incorporated somehow.
You might be wondering why I got something so glittery! Well, I need some bling on my tree! For me, adding some pizzazz doesn't mean I have to go overboard. If I can style the right amount to balance the matte ornaments, then I know I got a winner look.
The large starbursts were so easy to fill in the gaps! I didn't even have to hang them. They easily tucked in the back to give some depth perception. I highly recommend these to hang and/or use as fillers!
I really hope you are enjoying the first few days of December. As you plan your holiday tree, first think of your true north, your why for each room. Remember to think in terms of how to relationally elevate yourself and your family. And the rest will fall into place organically.
Happy day!