Now that our backyard is transformed into party central for our family, we are ready to welcome the sun!
Naturally, an outdoor umbrella round up is in order. The sun can get pretty hot on this side of the house during July and August.
I am currently looking for one to put by the cute outdoor reading corner. So happy to share with you all the great umbrellas I found. Without further ado, here is a rad summer outdoor umbrella round up for your outdoor space or beach outing!
Outdoor Umbrella Roundup: Italian Riviera Stripes
I don't know about you, but my favorite summer scenes are ones from Gray Malin.
Image Credit: Gray Malin
My best friend is Italian and she takes her family to the Italian Riviera every summer.
Gah, so jelly!
But, never fear, if I can't get to a destination, I like to re-create some version of it at home.
(Hello, Desert Room?)
If you agree with me, then you will definitely want some of these oh so chic striped umbrellas!
Image Credit: Wayfair
First up is this cute blue and white striped umbrella  just like the Gray Malin poster!
It also comes in teal, red, orange and yellow!
In addition to the stripes, what about adding a whimsical border like fringe?
One Kings Lane seems to have a plethora of Euro beach chic umbrellas!
This pagoda style striped umbrella with fringe really spoke to me. I think it would be a fun addition to the blue lounge chair outside.
If fringe is not your thing, then this very clean, modern and minimalist umbrella just might suit you instead.
I love anything that reminds me of a Palm Springs boutique resort and this one screams just that.
Ahhh, just imagine yourself there, but really in your own outdoor space. The power of positive thinking am I right?
Summer Beach Umbrella Roundup: Bold Patterns and Prints
If you need a beach umbrella for your beach trip, just head to your nearest Target because look at their new Sun Squad collection.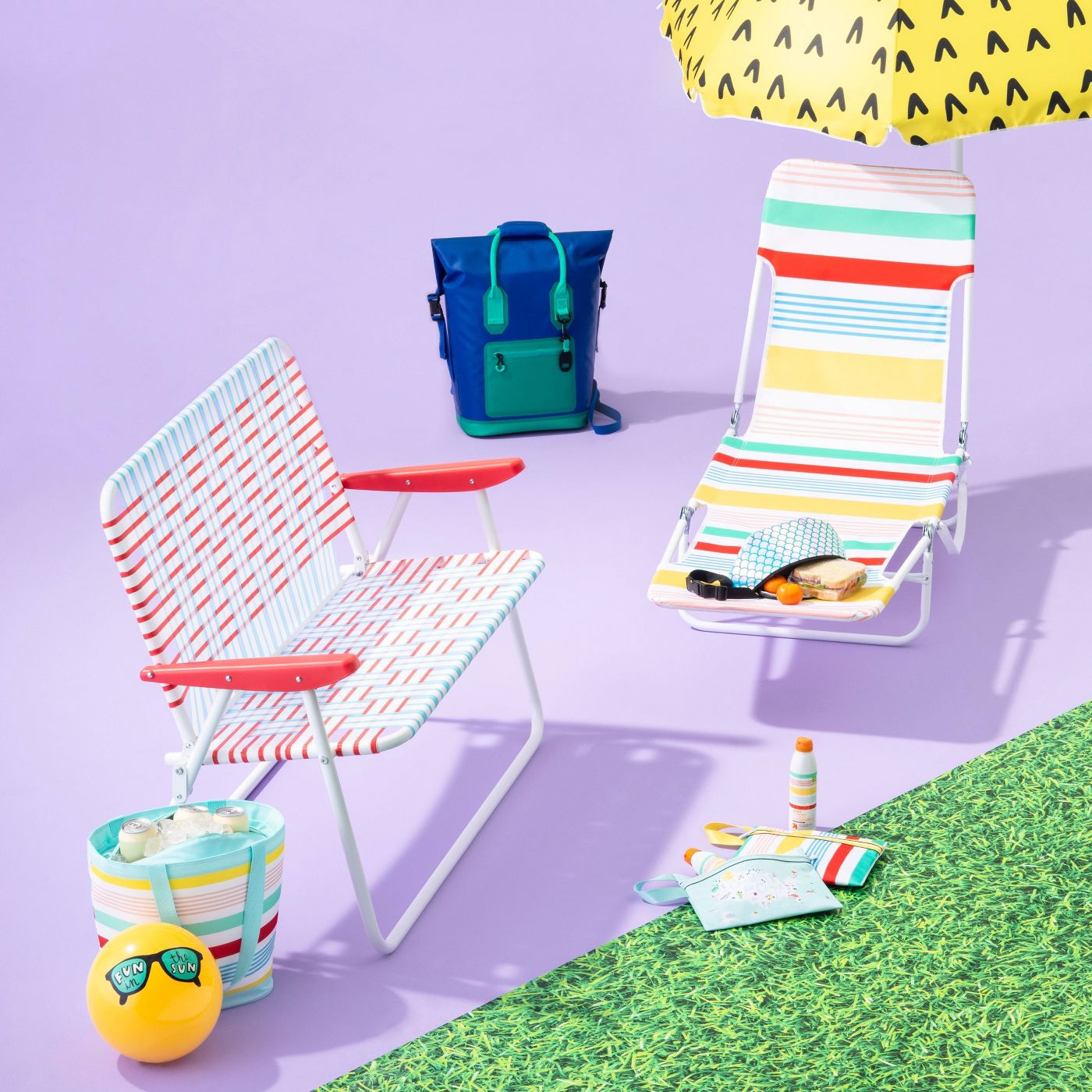 Image Credit: Target
Seriously, when is Target not on trend?
My girls loved seeing these at the store the other day! I have to admit, it was very tempting for me to turn our lovely backyard into a full on Sun Squad commercial with all the cute stuff they have.
Here are my favorites and don't think for a minute you can't find a stand to  put these in on your patio either! Doubling up the function for these at home and beach is the best part!
I love any kind of fun plant prints and this Palm Beach print  is too cute!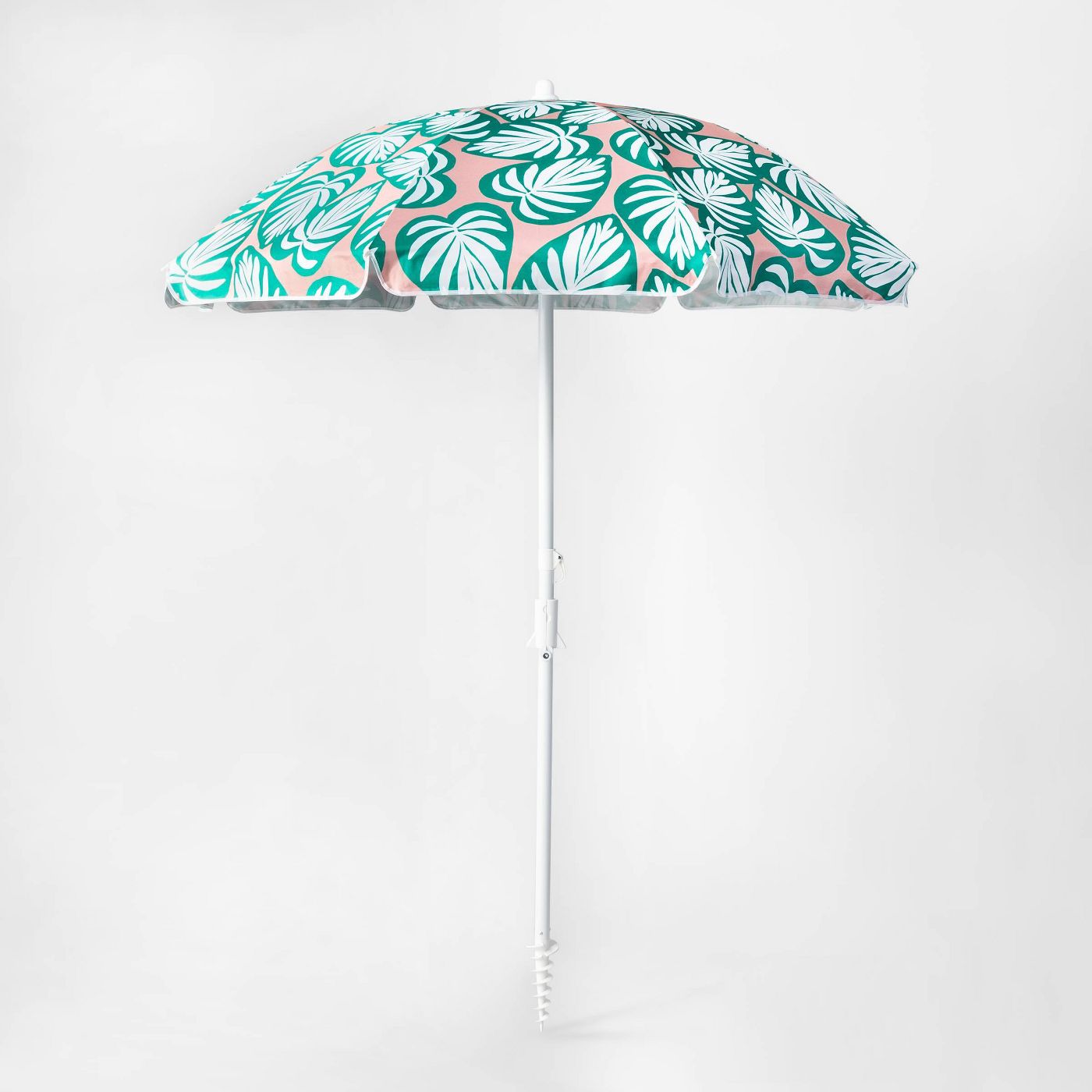 Image Credit: Target
Just when you thought I was done talking about stripes, bam! Here's another umbrella that is too good to not show you.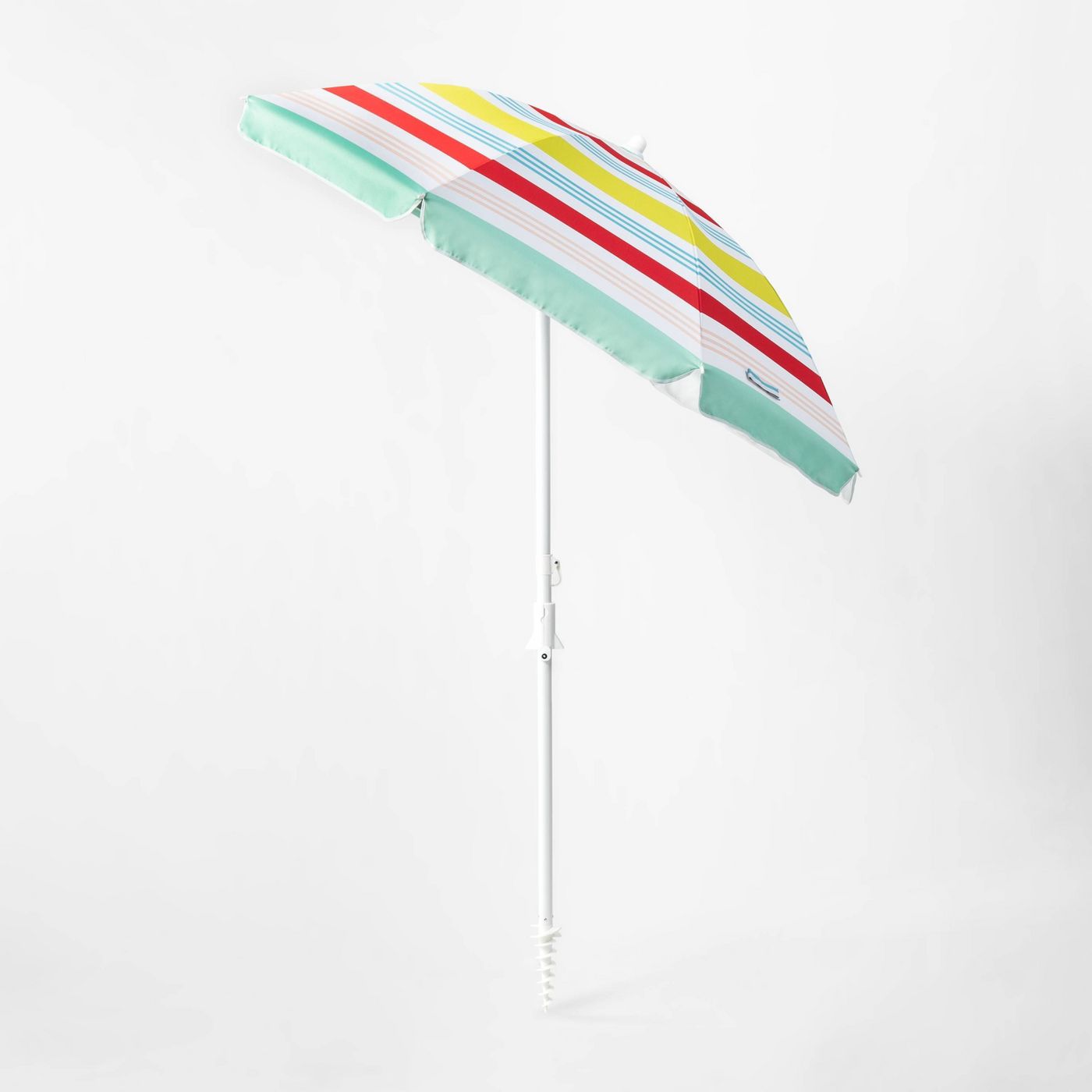 Image Credit: Target
The summer colors shine through the stripes on this  cute umbrella. I can just see kids and adults alike sipping lemonade with the sprinklers on.
Last March/April, I noticed Target pushing out soooo many great and NEW outdoor patio furniture, rugs, pillows and structures like the Pergola and fire pit we got!
It was during this time that I got all of my patio decor. I included these items for you to check out here since it makes sense to have your outdoor space compliment each other.
As you might be looking for these things as well as an umbrella.
And, here are the Target umbrellas that caught my discerning eye.
Opalhouse really nailed the summer effortless boho look. However, you don't have to be completely boho to add their style into your home.
Here are some that would look great in any style home. It adds personality and visual attention in a fun, but moderate manner.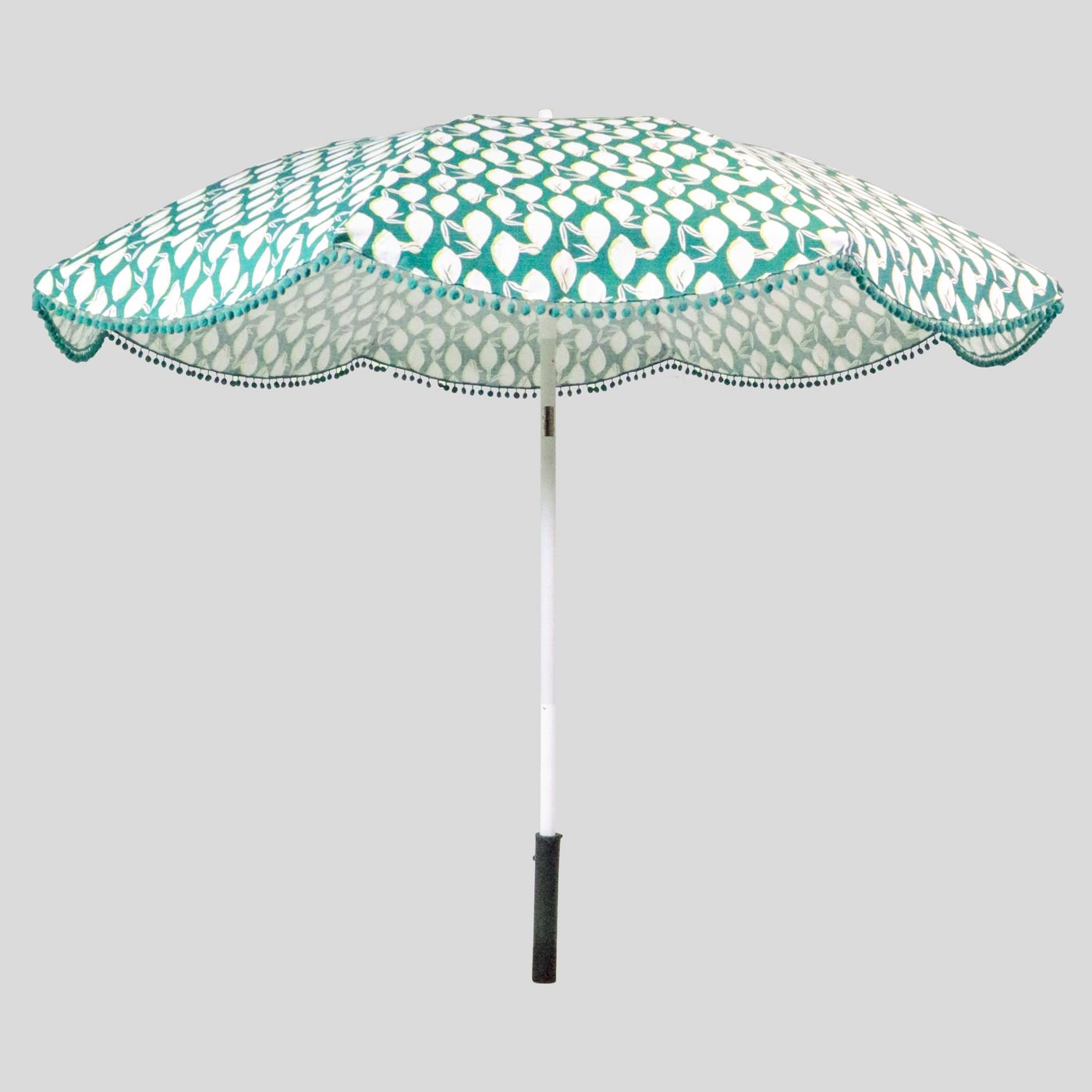 Image Credit: Target
These lemons are so yummy to look at! I can see this print in any style home because lemons symbolize summer, farm fresh fruit and lemonade. These things definitely translate to any aesthetic.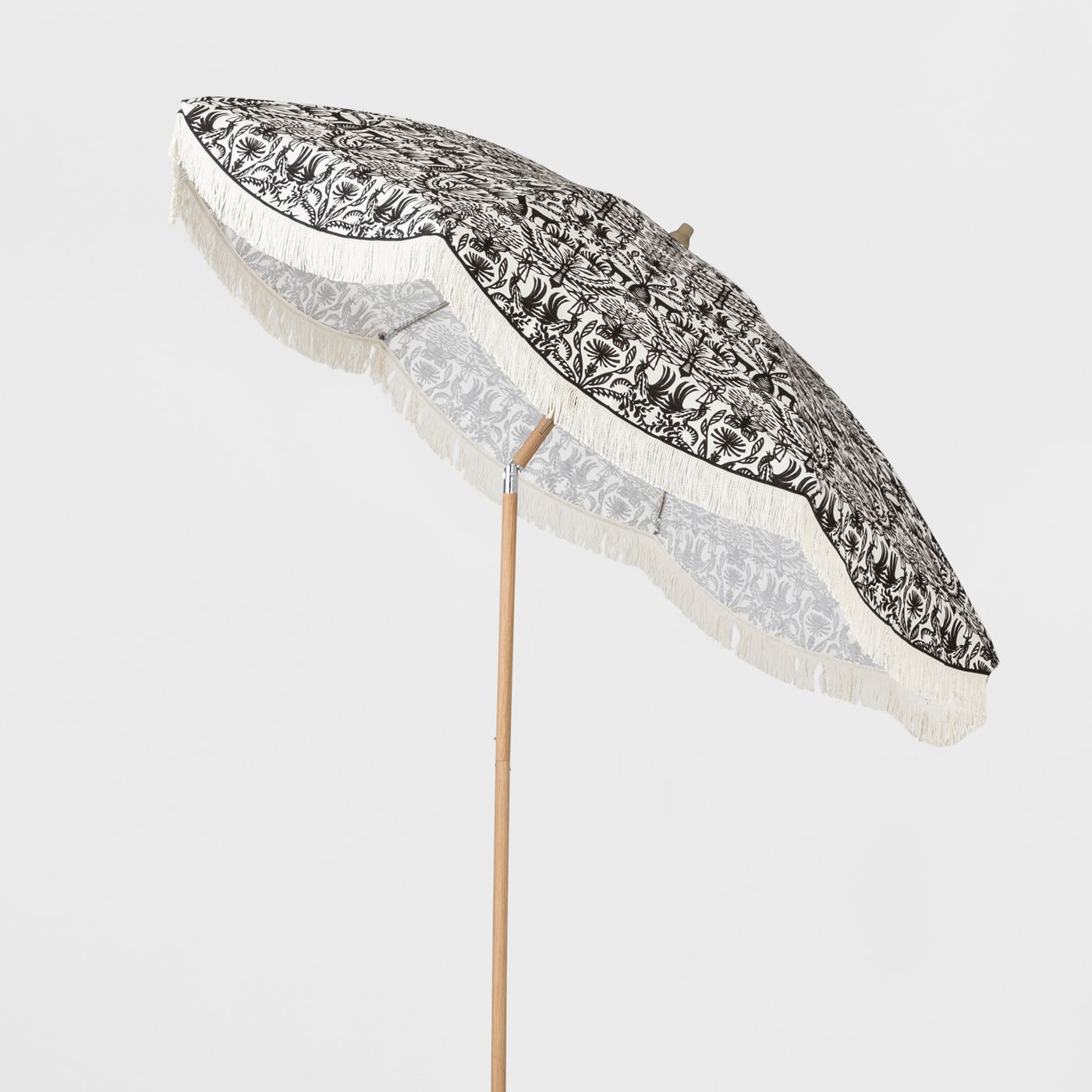 Image Credit: Target
This Eulalia Black White fringe umbrella can really add the pop a modern and minimalist  yard needs. So, if you want to keep things clean and fresh by way of simple furniture, but need something interesting, this one would be it!
 Outdoor Umbrella Roundup: Classic Solid Looks
Lately, I noticed there has been a surgence of new outdoor furniture collections. As I revealed to you earlier this week, JoyBird has a great collection.
Another favorite of mine is West Elm. Their umbrellas are classic and definitely stand the test of time in any yard.
I love this grey rectangle umbrella because  it exudes a refined relaxation feel to wherever you put it.
This is a great choice if you want something simple, stately and timeless.
Another umbrella that is straightforward and affordable is this one from Wayfair. It comes in a variety of colors, the shape is classic and you simply can't go wrong with the price.
Now, that I have given you so many options, want to know which one I chose?
Welp, to be honest, I haven't decided yet! But I better order one soon because the sun is ready to make its appearance soon. I just feel it!
Happy summer day!