Do you want to create a cozy and enticing holiday tablescape this year? Even if you're not hosting, it's a dreamy scene to have in your home.
I'm giving you three steps to a stunning holiday table. They are easy peasy and you can literally set up within 20 minutes. I promise!
3 Steps to a Stunning Holiday Table: Runner or Rug?
I know, you're scratching your head wondering why would you ever put a rug on a table? Welp. Look.
LOOK AT HOW AMAZING THIS LOOKS. And it's just as eye-catching and beautiful in person!
Sometimes my intuitive hits really surprise me! I always start out thinking, what if?
This is one "what if" I'm glad I tried.
Image Credit: World Market
These 2×3 rugs are only available in the store. But it is worth it! AND it's $15. YES. $15! Go, now!
Ok, maybe wait until you're done reading this gem of a post about fabulous holiday dining style.
Back to this wonderful surprise. Back story: I bought the rug on a whim because it was pretty and I figured it would look great in the background when I shoot shots near a door or as a kitchen or bath mat.
When I got home, I realized I needed a runner or some kind of textile for the dining table! Then my "What if" intuitive hit!
The rest is history.
I'm so obsessed with this idea! Now I'm thinking of so many textile/rug patterns, colors and options for every holiday coming up! And again, $15?!
Here's one more that you might want to consider too!
Image Credit: World Market
Um..this one is $13? Ok, really, go now!
3 Steps to a Stunning Holiday Table: Candle Lighting and PERF Pie
Our brains connect objects that create experiences and this is how memories stick with us.
Candle lighting is one memory that evokes immediate physical warmth into our hearts. Isn't it amazing?
And in case you're wondering why I'm sharing this close up shot of a lopsided pie. The girls and I made this pie together. Not only that, for the first time in my baking history, I got the crust PERF! I mean, P-E-R-F! So, yes, I'm damn proud of this pie we made and just had to show you!
Image Credit: Anthropologie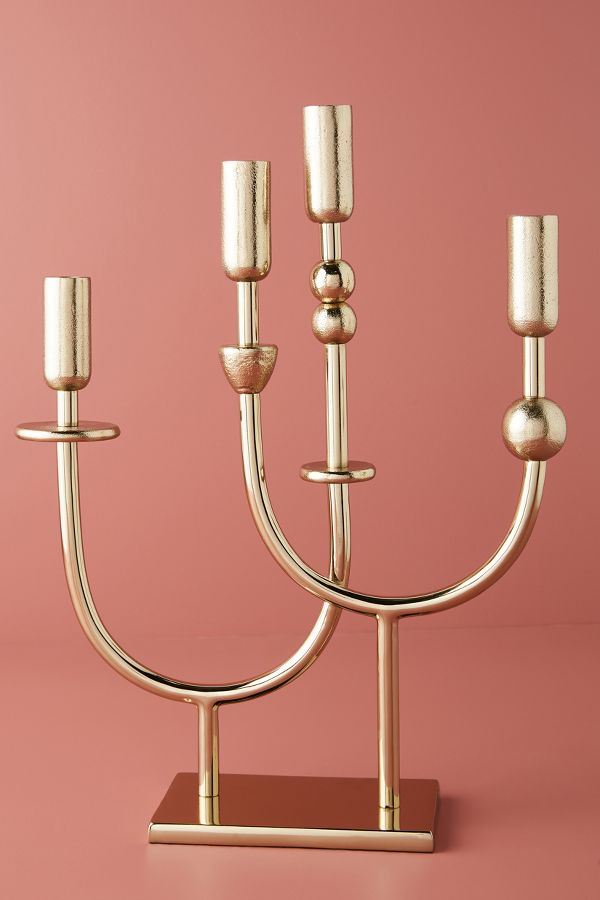 I just might have to add this Adonna Candelabra to my design repertoire. So modern and sleek.
Moving on to pie recipes. I know, it's a weird change of subject. But it is actually a very important part of the 3 steps! So far we have the wonderful runner hack, stylish brass candle holders and of course, dessert.
Holiday food gives us so many excuses to indulge! Not only in calories but also in decor accents.
Observe how I took a very traditional holiday plaid and mixed it on top of a boho textural patterned rug. Never thought you could design this way right? Yes, YOU CAN, my friend. Yes, you can.
It just has to be done in a tasteful and not too bold manner. Both of the tea towels and rugs are for the most part neutral colors. And have you noticed both are liner and geometric patterns? So they are essentially in the same pattern category.
Once you have decided what kind of pie to serve, having beautiful and intentional dessert plates and flatware makes all the difference.
SO if you want to be the hostess with the mostess, spending the time to research and buy quality dishware and linens for a party is worth it!
If there's one thing I would collect obsessively, they are kitchen tea linen towels. I'm already a forever striped girl with wardrobe. But stocking up on these types of kitchen linens seriously makes me a little bananas, in a good way.
Image Credit: McGee and Co.
Green towels in the kitchen are perf this time of the year!
And you won't believe what I found while writing this post. I found the exact same set sold a few dollars cheaper on Amazon. The exact same set guys! It's by the wholesaler. 
My set of dessert plates are by Suite One Studio are my favorite! You need to check her whole collections here. I found some on Gilt for a great price!
Now that you know 3 great steps towards a stunning holiday table, what's stopping you to let your friends and family know you're hosting?
When you do, just be sure to save me a piece of pie!
Happy day!